We will be implementing a more safe and organized transfer of students here at the bus garage starting Monday morning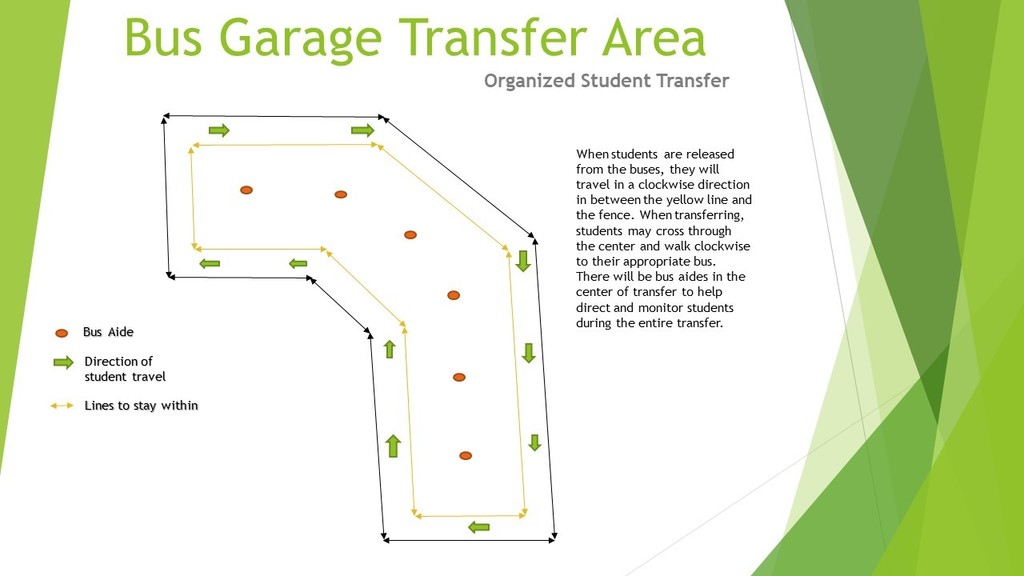 Late Start & Early Release Tomorrow! Due to FCSD#25 staff meetings, school for Frontier students will begin @ 9:30am. Frontier will follow our normal Wednesday release time of 2:30pm.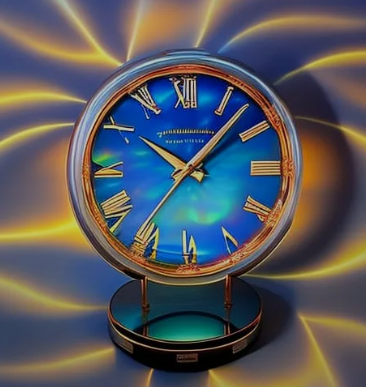 due to a district meeting. we will have a late start tomorrow at 9:30 a.m. plus tomorrow is the early release being a Wednesday where we get out at 2:35. see you tomorrow

Excited to Resume School with Students Tomorrow! Doors open at 7:30am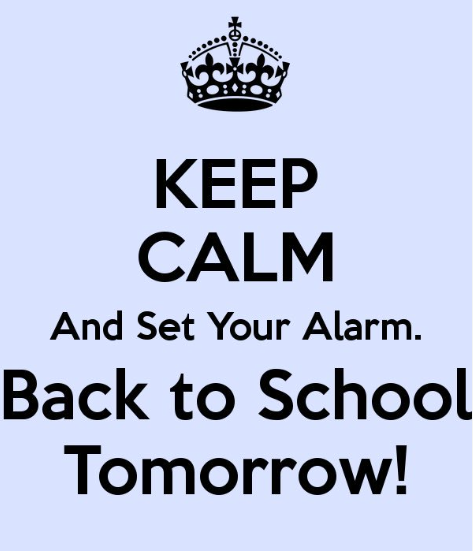 DOTS! on the First Day of School Last Thursday was our first day with students---and what an outstanding group we have this year!!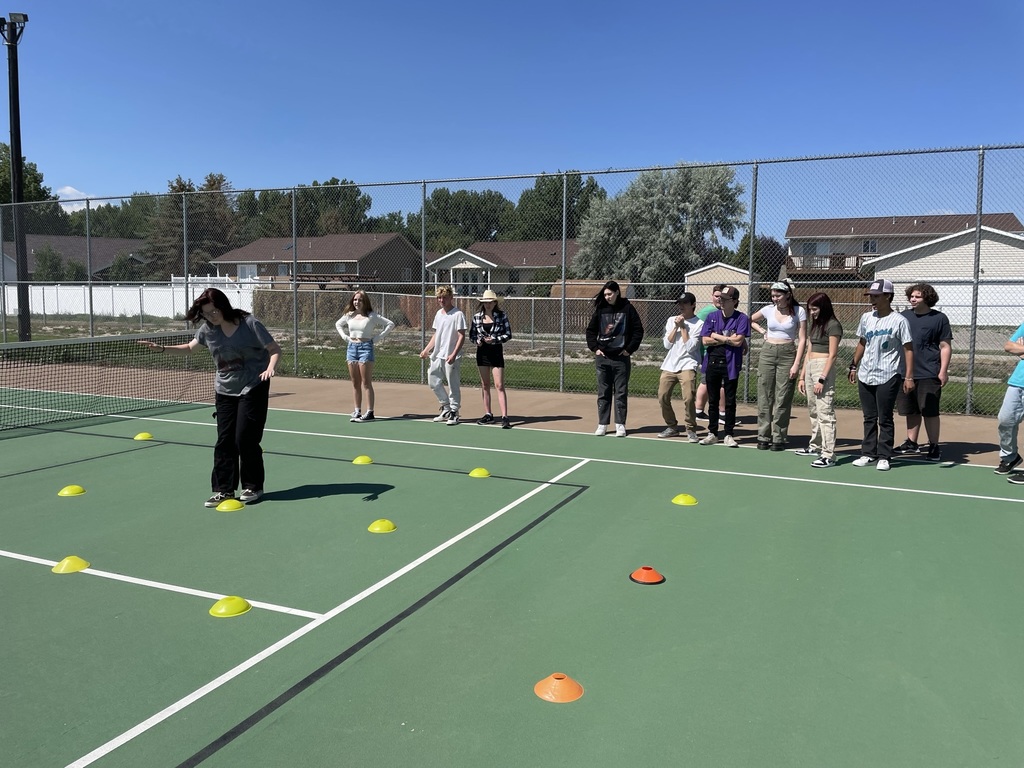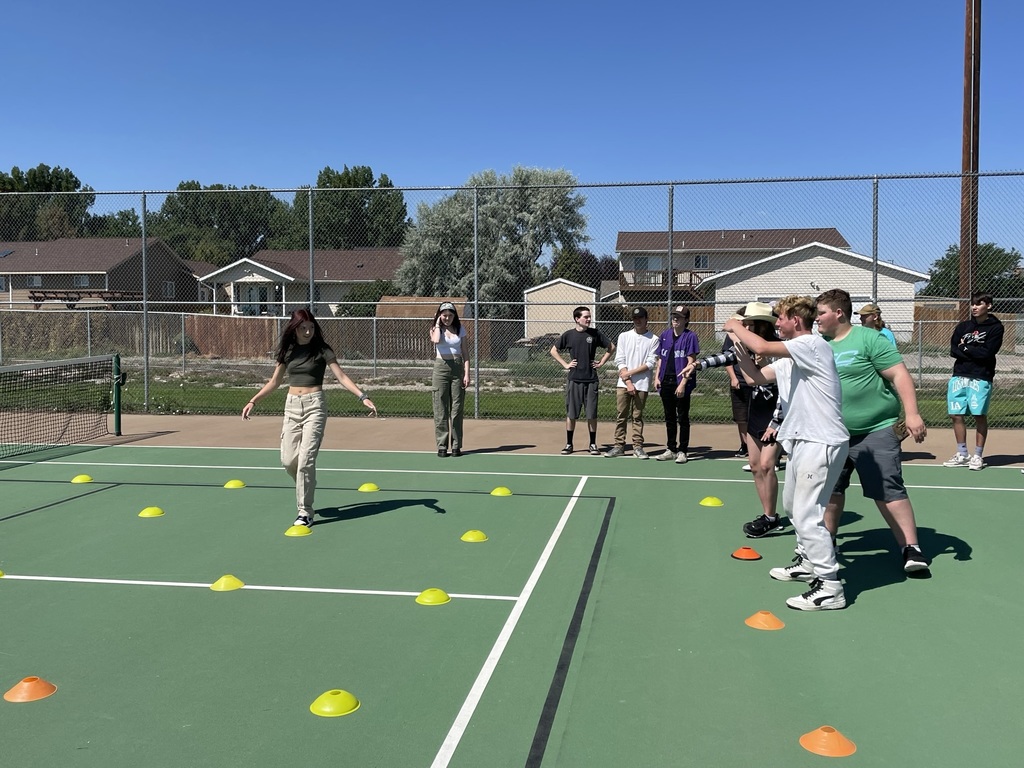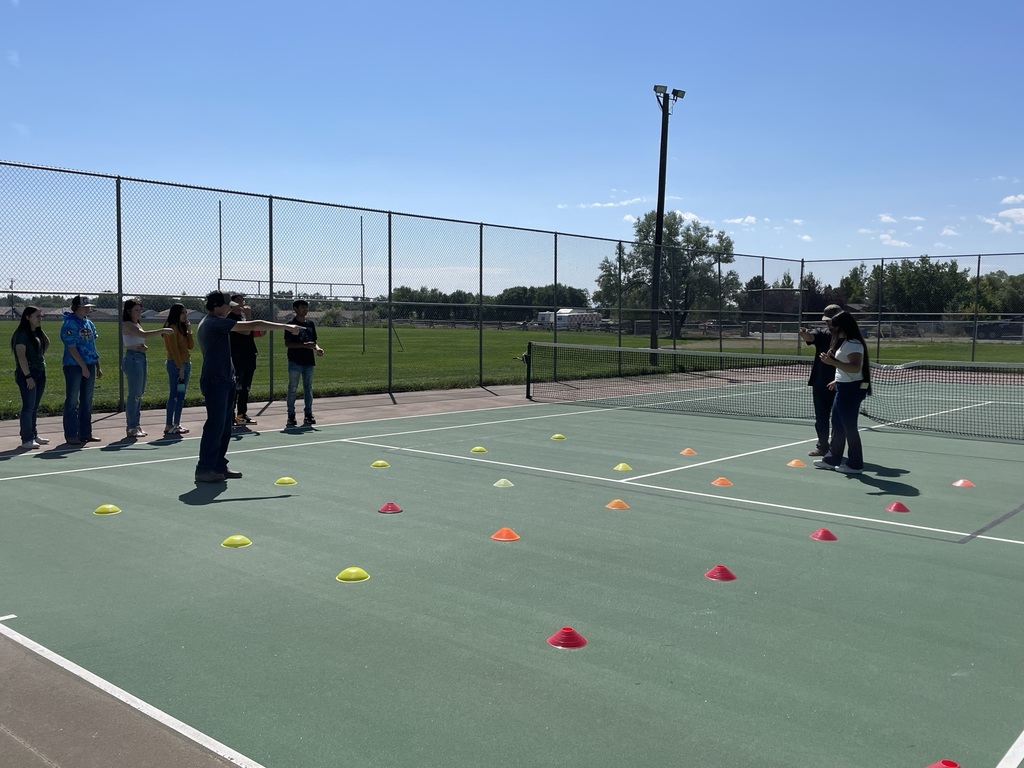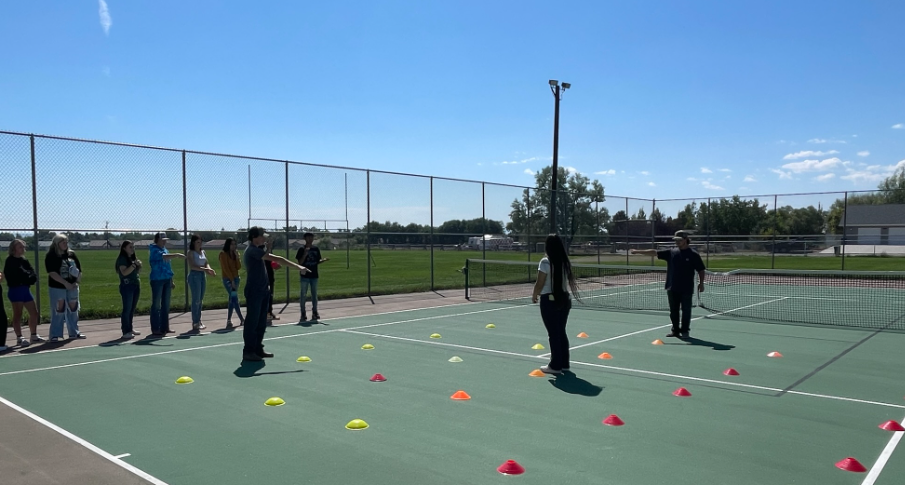 Gentle Reminder: No School for Students Today! Doors open at 7:30am for students Tomorrow. :)

CONGRATULATIONS HAYDEN BLUMENSHINE!! At this week's Wyoming's Native American Conference, Hayden Blumenshine was recognized with the Pacesetter Award. This great honor sets apart students who demonstrate outstanding qualities regarding academic achievement, attendance, leadership among peers, performance of community service, and aspirations for continued education or training after high school. We are so proud of you, Hayden, congrats!!!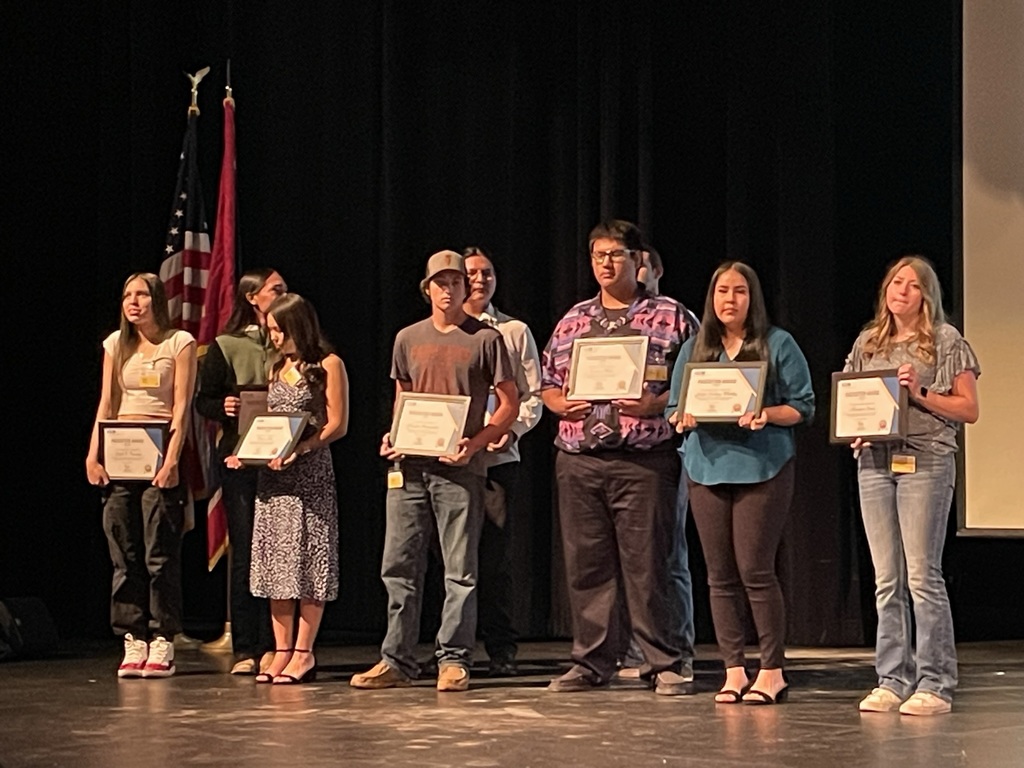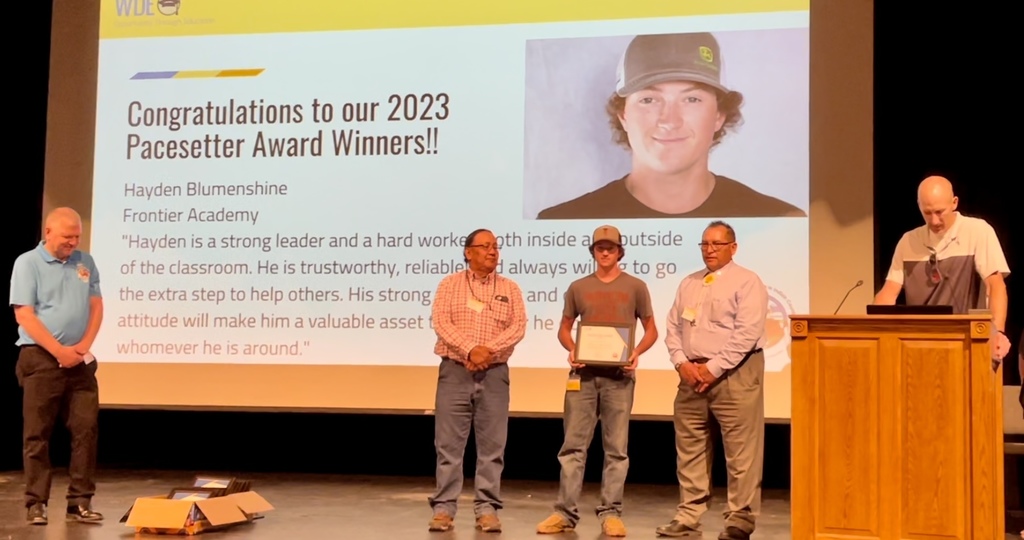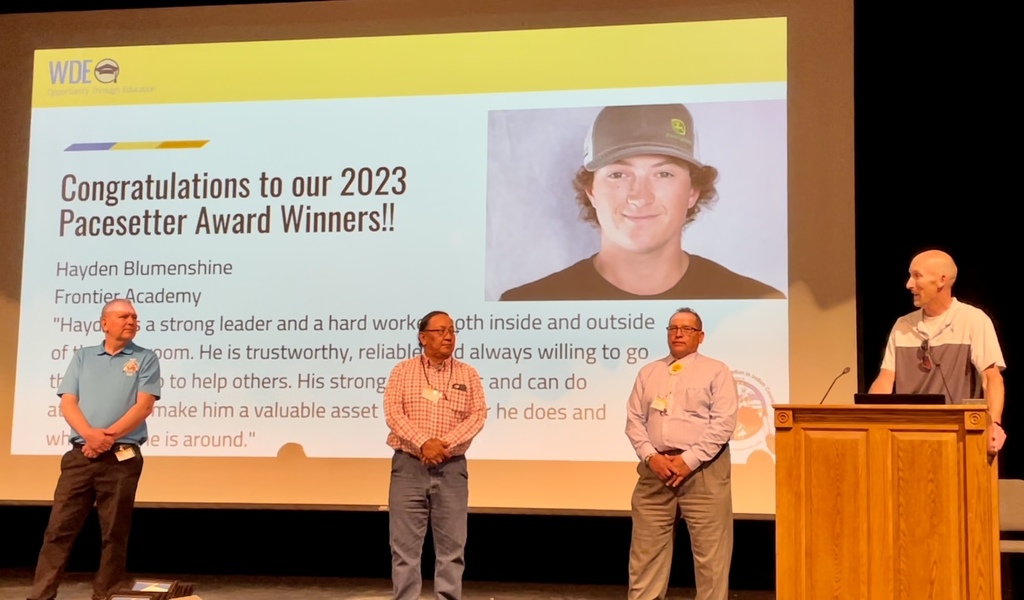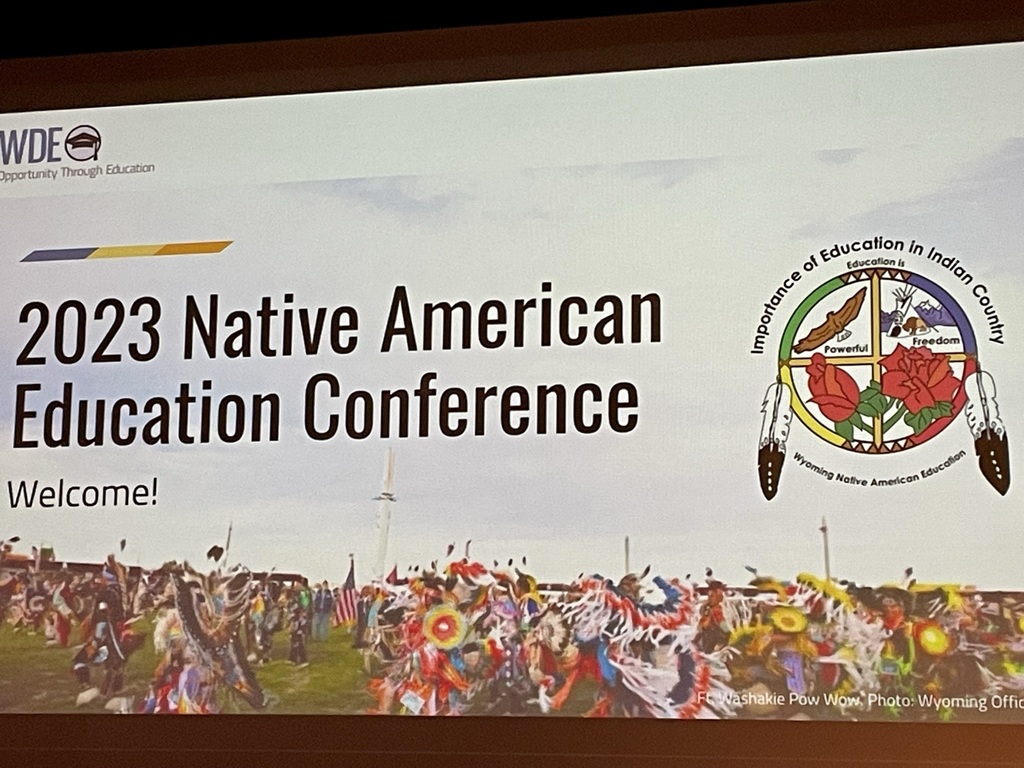 FRONTIER TEAM BUILDING FRIDAY (8/10/23) Our Frontier students and staff will depart from the school by 8:30am and return by 3:30pm for our annual river float and private hot springs cookout. Please come dressed in your river water attire with appropriate clothing for riding the bus. You may want to bring clothing to change into before we leave to come home. Also, feel free to bring your towel, sunscreen, sunglasses, hat, and water bottle. We are not providing beverages/containers; however, students will be able to fill their water bottles before departure and after the river float. Any questions? Please see your staff member.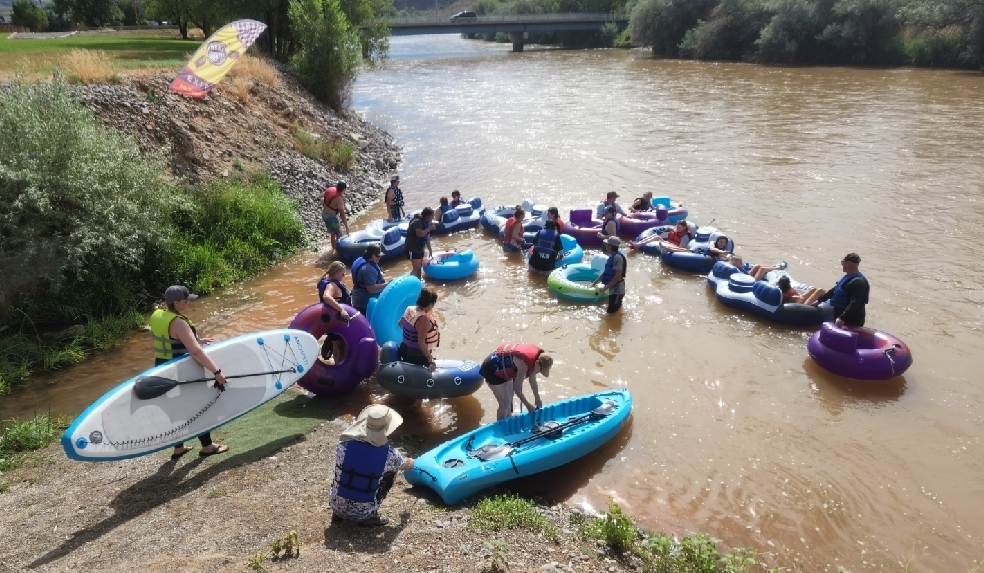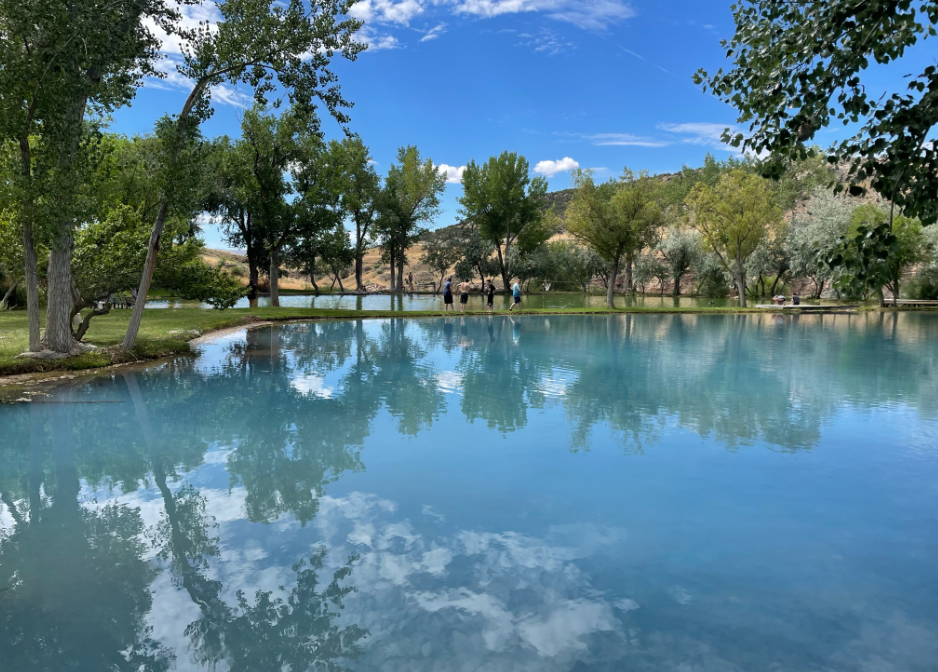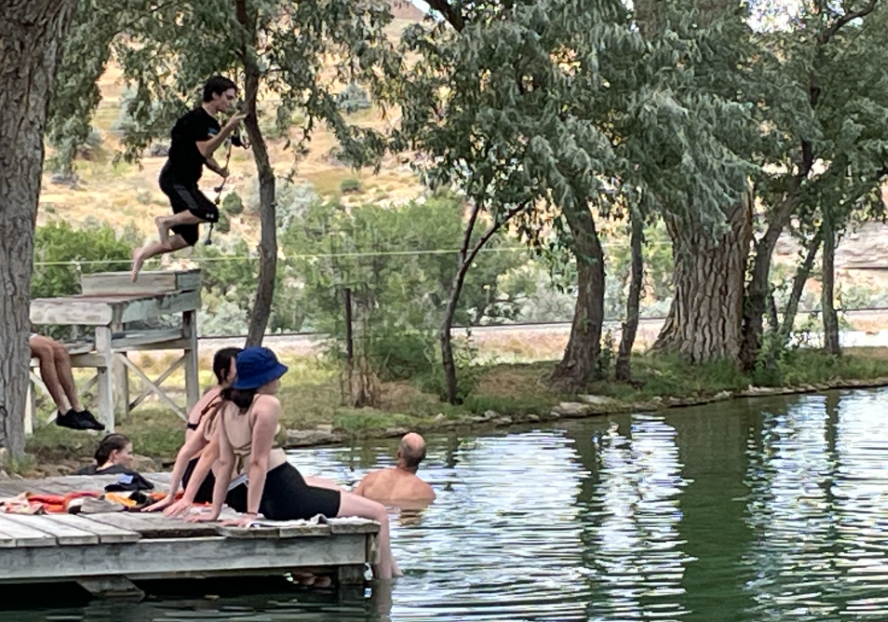 WELCOME BACK STUDENTS! Tomorrow (8/10/23) Frontier Academy welcomes in students at 8am with breakfast burritos & coffee. We have a full day of team building activities too. Staff worked hard these past days and are excited to see all of you!!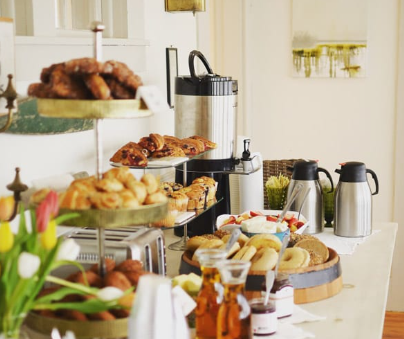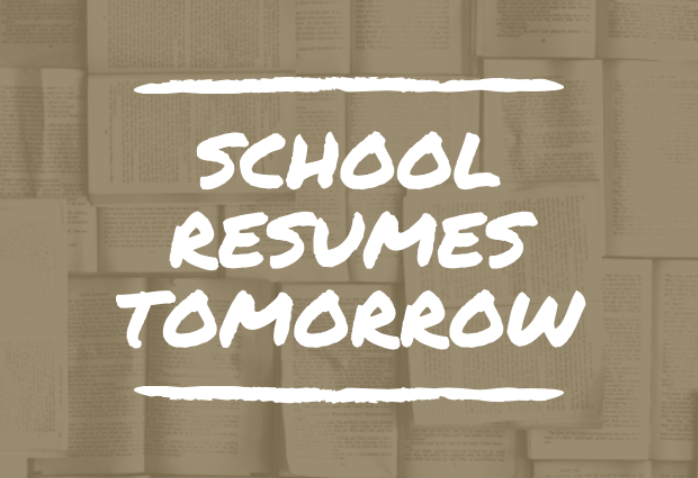 Job Opportunities at FCSD25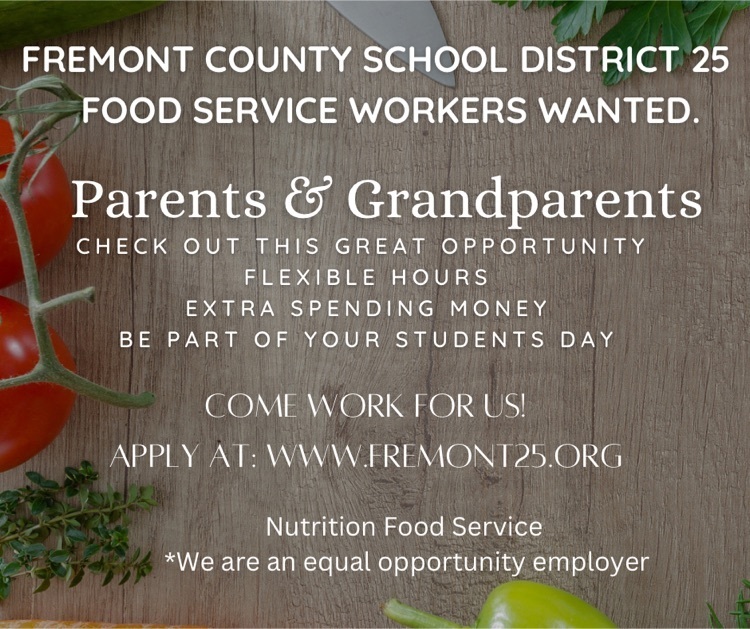 District 25 has increased their pay! Paraprofessionals, Food Service, Bus Drivers and Bus Aides. Paraprofessionals: start at $17/hour – Will interview August 2nd and 4th Food Service Workers and Substitutes: start at $15.50/hour Bus Drivers: start at $20/hour will train Bus Aides: start at $17/hour To apply please visit our website:
www.fremont25.org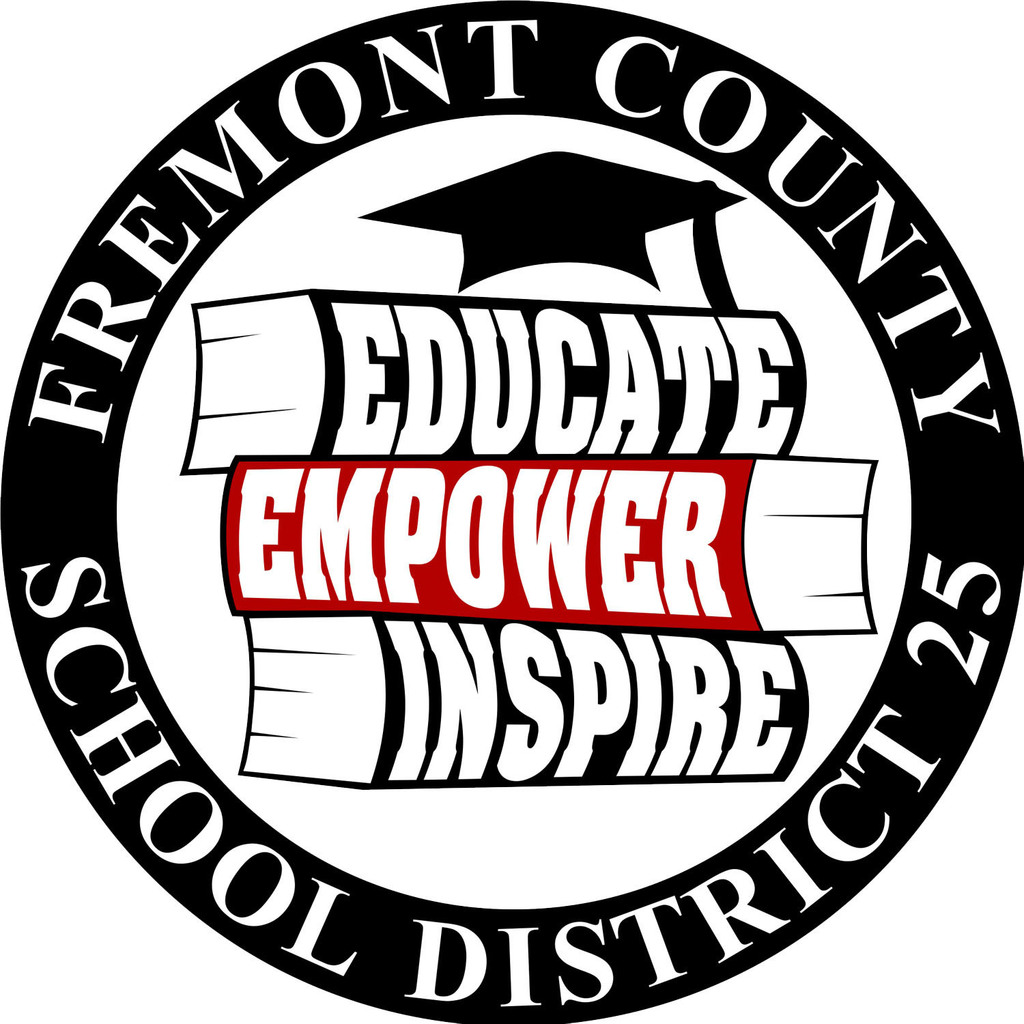 3 Pics for 3 Graduates! Last night's graduation wrapped up an amazing school year! ❤️🎓❤️ Congrats to our grads: Bailyn, Tena (Kristena), and Mattie!! ❤️🎓❤️ We are incredibly proud of each of you and excited to see you move on to bigger things!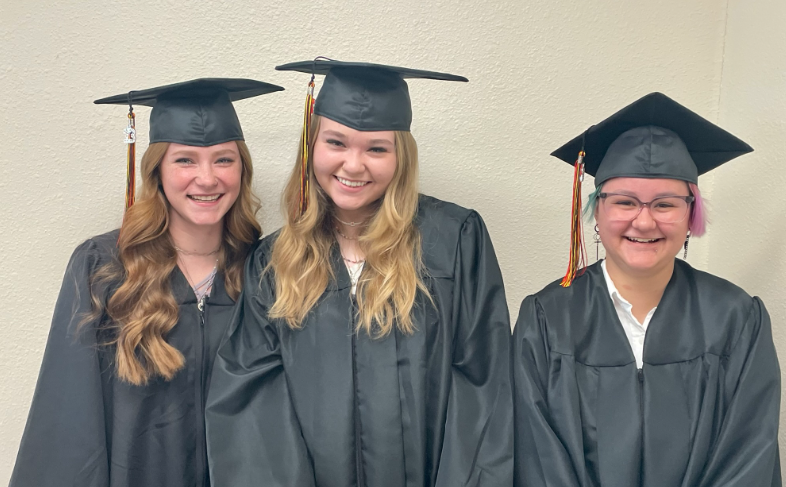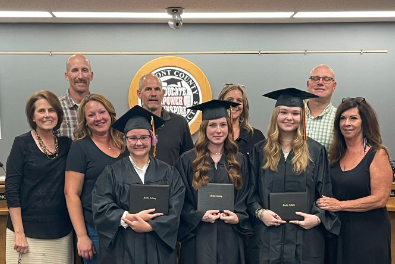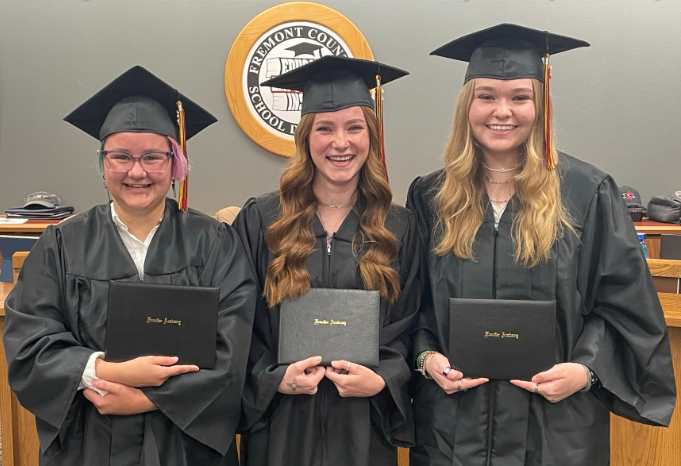 Frontier Student remember to bring everything you need for our swimming trip tomorrow to Thermopolis. Bring your swimming clothes, towel, sun screen, and water bottle. Bus is loading around 8:30. Hope to see everyone for day of fun. Dad Burgers on the menu.

Getting a little teary-eyed as we begin to wrap up the 2022-23 school year. We've earned credits, we've graduated many, and about to graduate 3 more this Tuesday. Here's to wishing all a safe and refreshing summer break!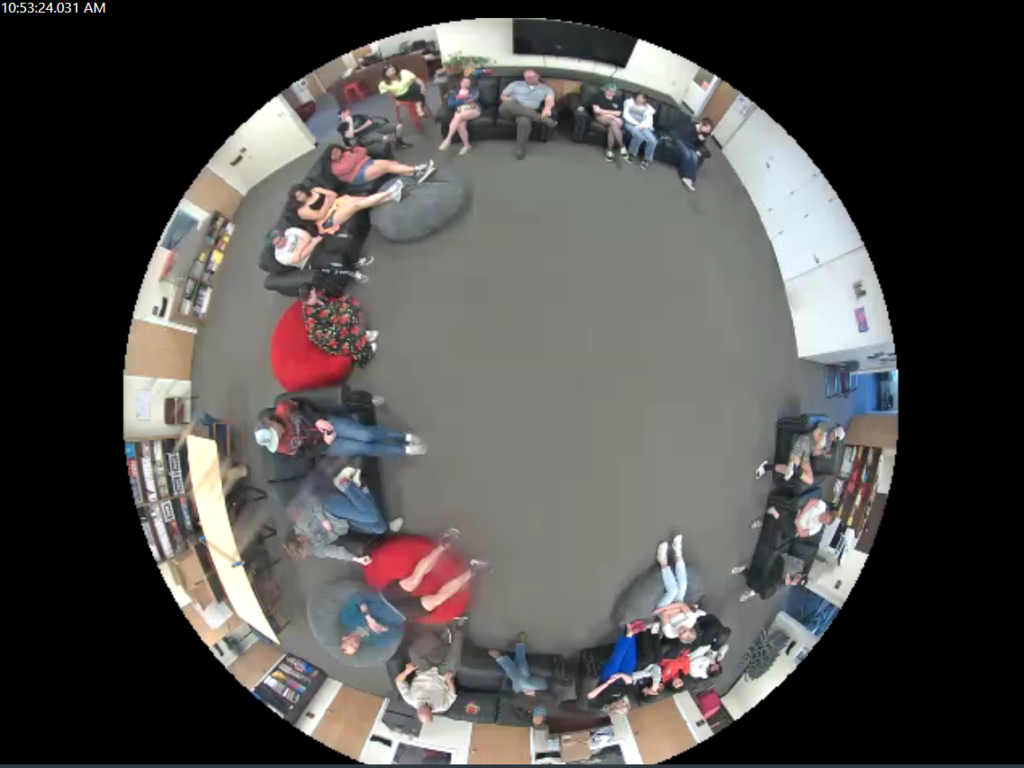 Awesome Highway Cleanup Yesterday! Frontier loves giving back to our community & county!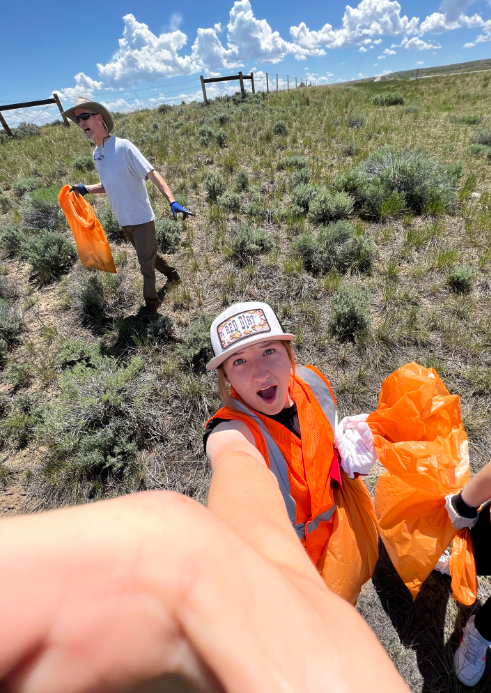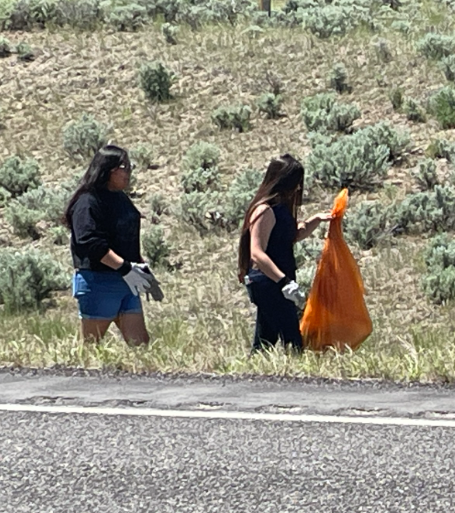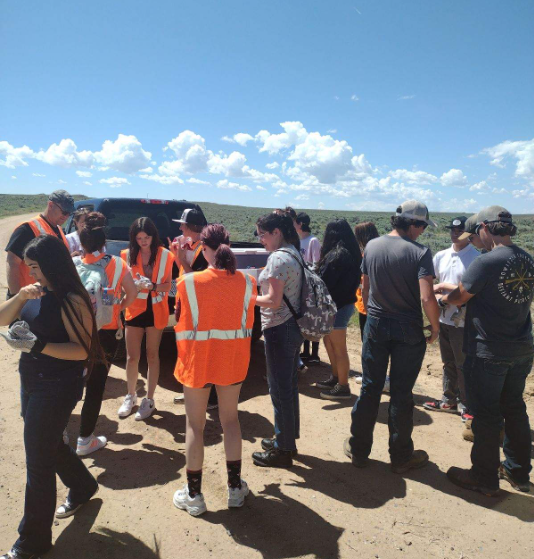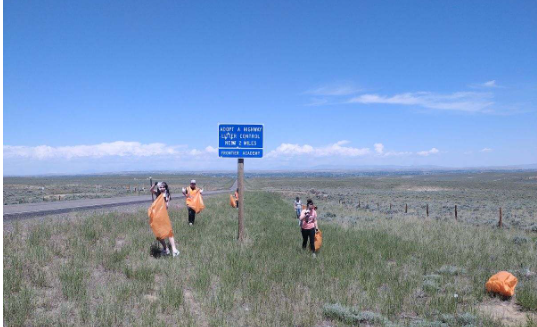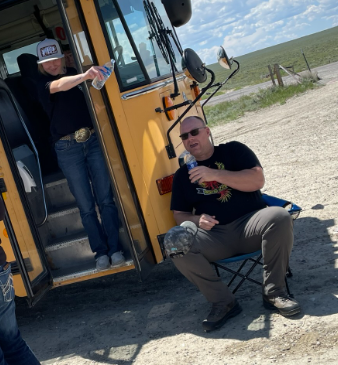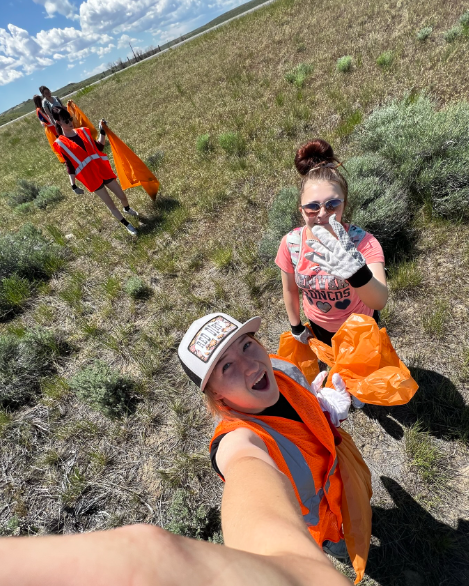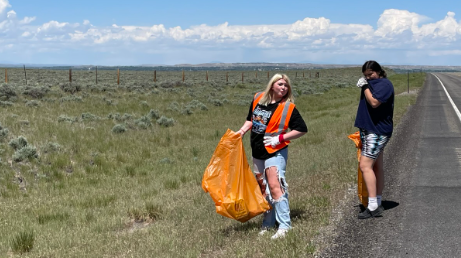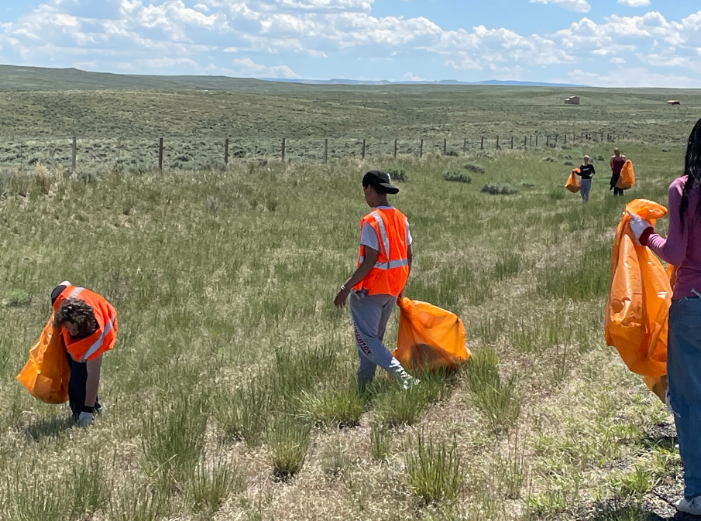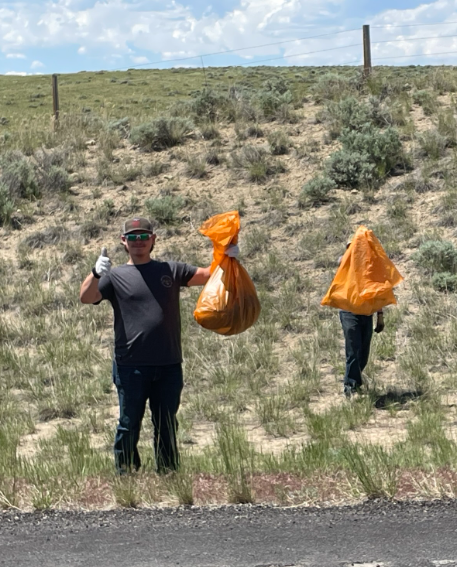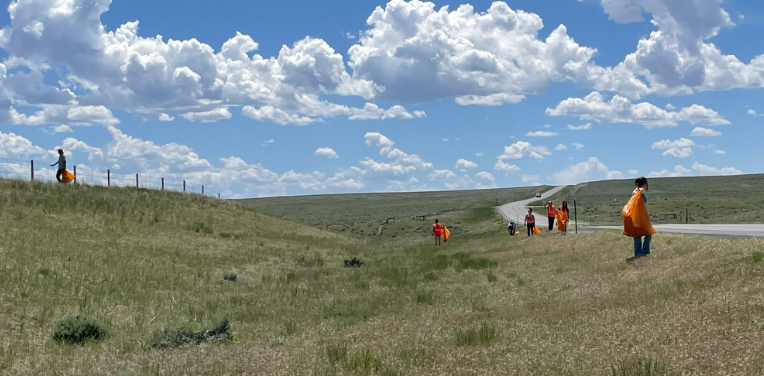 A Great Opportunity!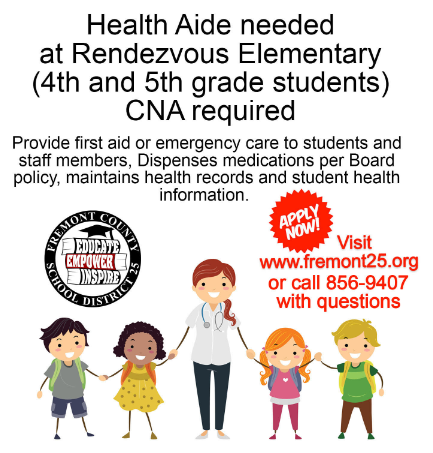 Gentle Reminder: Frontier Academy continues our school year through June 9th., 8am-3:15pm. It was awesome to see so many of our students today!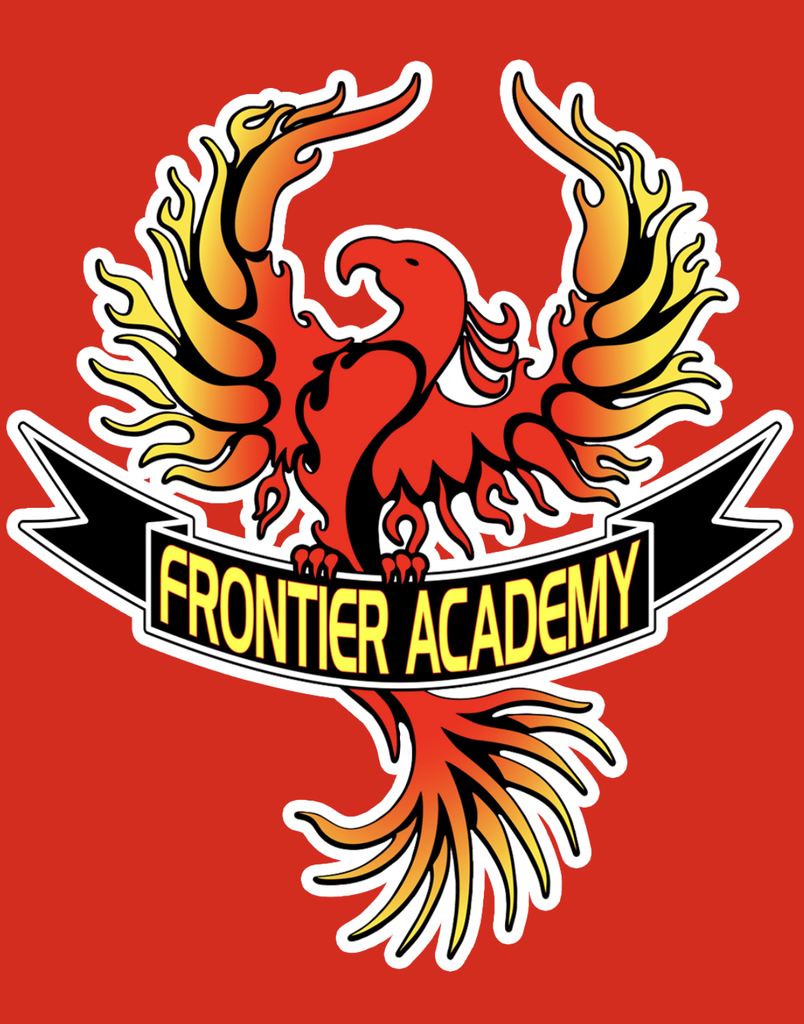 Such a powerful message in the graduation of 7 Frontier students this evening: Family, Focus, Future, Challenge Accepted! The confidence our graduates radiated in earning this moment proves these Phoenix are ready to fly! Congratulations Graduates❣️ More pics will be posted tomorrow off this wonderful events. 🎓☺️🎓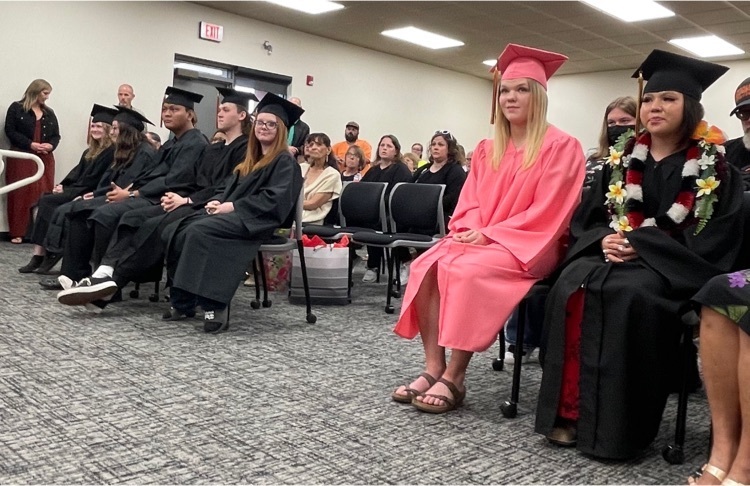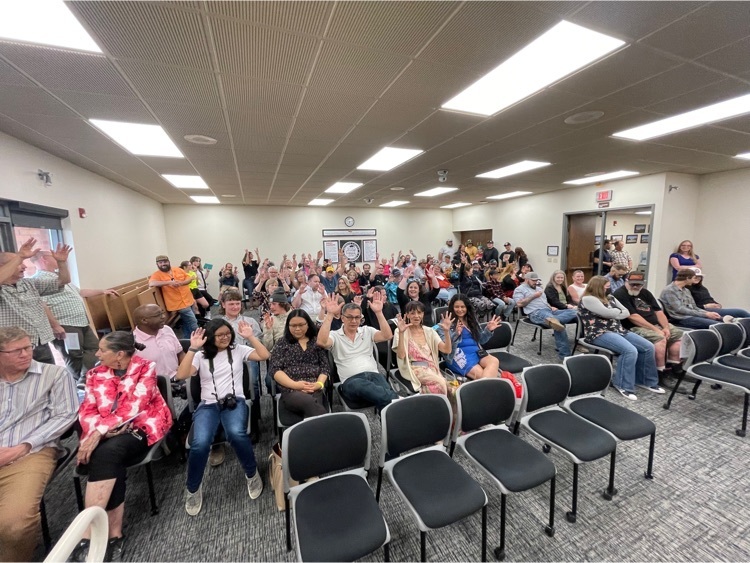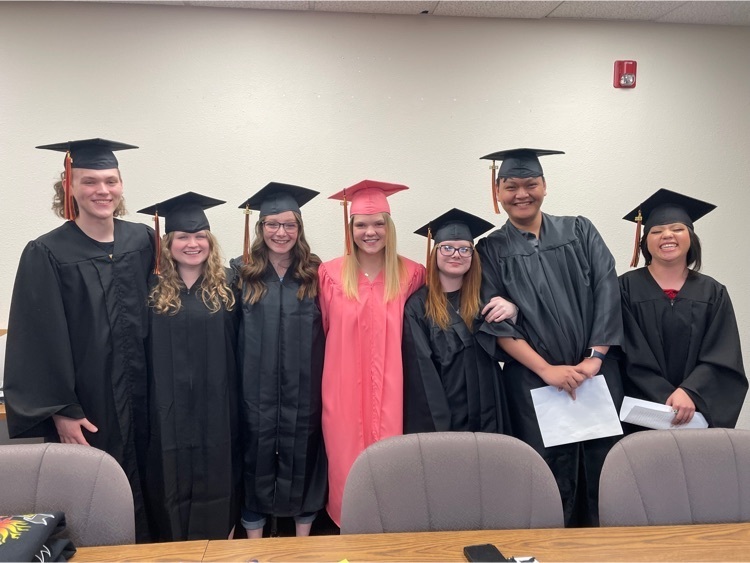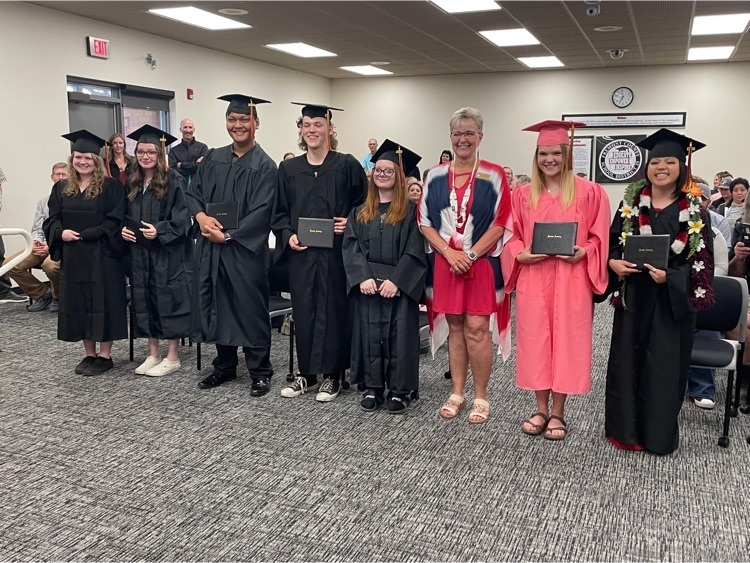 Frontier Thanks County 10 and the Student of the Year and Week Sponsors! Tuesday, May 16 County 10 threw a fabulous recognition soiree for each of the Fremont County High School Students of the Year. County 10's CEO Will Hill kicked off the event with his personal story and turned it over to key note speaker, RHS's Kristen Newlin 2003 grad. Our own Dante Buck stood out with her own personal journy to graduate from Frontier and enroll with Casper College this fall. We congradulate all of the recognized students, but share brilliant beams of sunlight and joy for our very own, Dante Buck. Congrats!!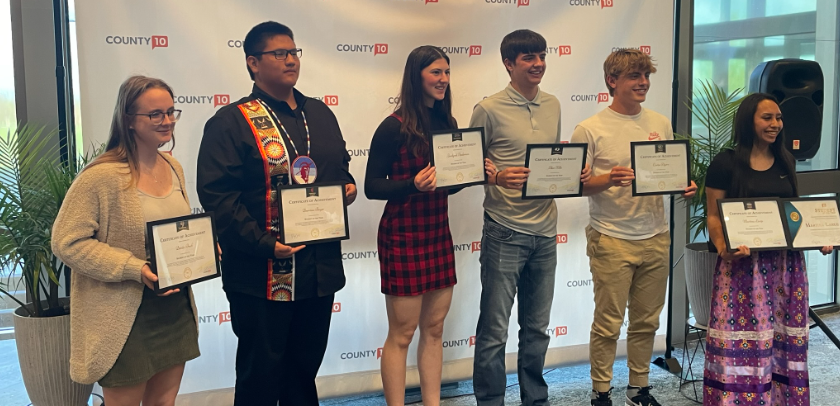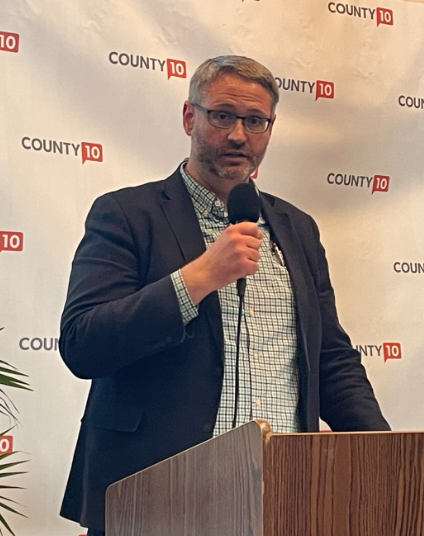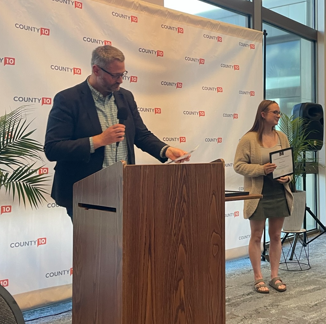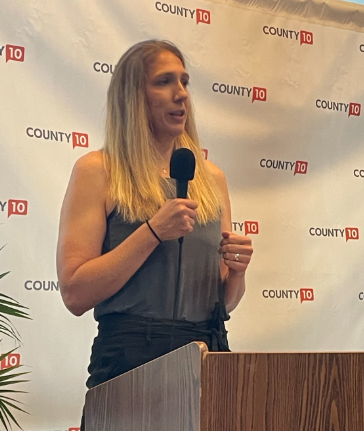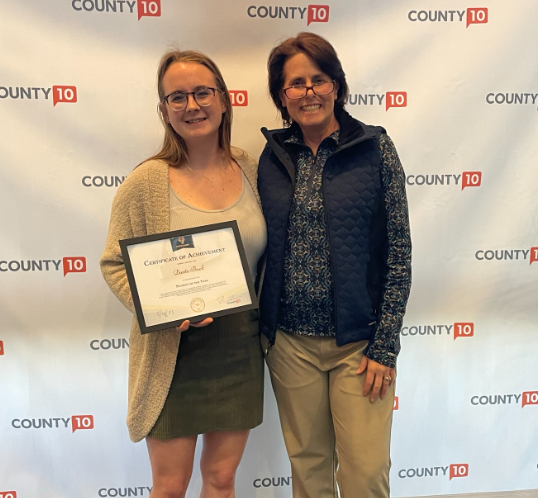 Congrats to Dante Buck: Frontier's County 10 Student of the Year!!! While all of our graduated seniors are pretty amazing people, Dante took the cake with her drive to finish high school. While at Frontier, Dante became a student leader focused on her studies, stepped up in volunteerism, and managed a job all at the same time. Dante will apply her $500 scholarship from this award towards her tuition at Casper College this fall. We are so very proud of Miss Buck and are excited for her future and those she impacts.